Although we're providing specific examples and details about our process below, it's important to remember that there is a lot of competition for slots in a weapon case – your designs are competing with all of the other designs on the Workshop. So while you can improve your chances by following the Style Guide below, ultimately there is no approach or level of quality that will guarantee successful or consistent selections in weapon cases.
The number of weapons slots in a case are limited, and CS2 has more weapons on the roster than slots in the case, so we rotate weapons in and out of case selection.

The weapons we plan to feature in a case are decided before we start selecting finishes, so often a great weapon finish can appear on the workshop, but it might take one or two cases before it ships. The most successful contributors tend to design finishes for all tiers on a large variety of weapons.
How we select weapons
Creating well executed, highly salient finishes that target higher tiers will get you noticed by the community. However, the competition for high utility, high salience weapons is fierce and only represents one or two slots in any case, so if your goal is to be selected you might want to think about adding some subtler, just as well executed finishes for lower utility weapons. We look at what's popular in the community and we actively dig into the workshop to seek out finishes from both new and established contributors.

Modifying a weapon finish and uploading multiple versions that can fit in different rarity tiers can increase your chances of being selected. This allows more flexibility for that finish to match the weapons we plan to feature in future weapon cases.
The most successful workshop artists contribute high quality finishes across all rarity tiers and do not optimize for only Covert finishes. Covert designs are good at getting the community to notice you, and that usually leads us to check out the rest of your workshop. In fact, most of the Mil-Spec designs we ship are discovered after reviewing artists with a broad portfolio of submissions.
Community Voting
When your submission is uploaded to the workshop, the voting system provides insight into the community's level of excitement towards your finish. This can be a good tool to evaluate the direction of your work, but it has limitations. As an example, the most desirable finishes will often (but not always) get the most upvotes, but those desirable finishes are almost always the most salient and that only really helps select finishes for the top tiers of the case. It's not great at helping us find weapon finishes for the lower tiers, so we frequently depart from workshop votes when making selections.
The community also tends to upvote established finishes they have seen in previous cases, but we typically prefer to keep cases feeling fresh by shipping both new and established finishes. If a finish is in a style that the community hasn't seen before it may not be popular in the workshop, but that doesn't mean it won't be a big hit if we include it in a case.
The Importance of Salience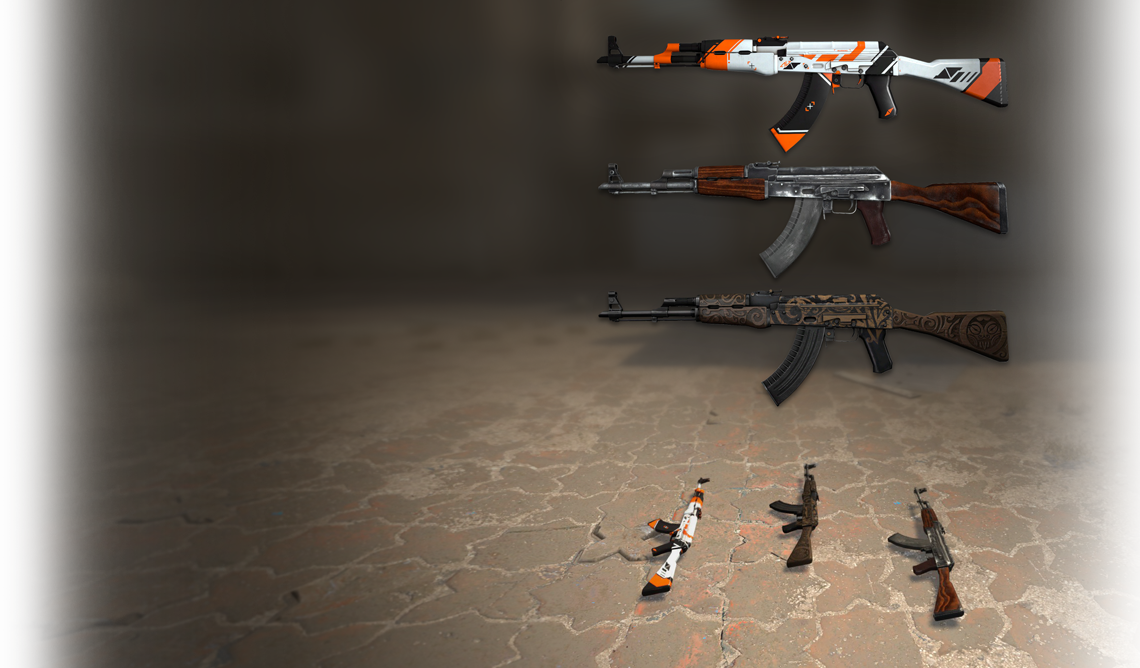 How salient something is describes how noticeable or recognizable it is.

When we look at things, we recognize patterns as well as contrast both in value and in color. For a design to be highly salient it needs to have strong contrast in value or color (or both) but it also needs to be distinct from other designs and readable.